Genuine Natural Baltic Amber
Baby / Child's Bracelet
PRICE: $14.95

Hand crafted natural Baltic Amber -Bracelet, one of the oldest yet most realiable methods for pain relief !!!
Baby/ Children's Natural Baltic Amber 12cm.
Benefits to purchasing *Sweet Pea* Baltic Amber Products-
We Only Sell 100% Guaranteed Genuine Natural Baltic Amber Jewellery




The Science...

Amber has anti-inflammatory and therapeutic properties that aid in the reduction of acidity in the body, pain, swollen gums, nappy rash and fevers. When the necklace is worn against the skin the body's warmth releases the amber's ancient natural oils. The body then absorbs these oils, rich in therapeutic succinic acid.

The positive influence of succinic acid has been scientifically proven by Nobel-prize winner Robert Koch and recent scientific research. Succinic acid is a fossilised resin produced by plants 40 to 50 million years ago. In nature the resin would have been used by the tree as a natural antibiotic against infection, viruses and physical attack. The tree would use the resin like a wound dressing. Now the resin has been fossilised, its healing properties have been captured in the resin which are released into the skin once the amber has been warmed.

MOST IMPORTANTLY it is a tried and true solution passed down for generations.

The Natural Benefit...

You will find that using an amber teething necklace will mean that you do not have to resort to the use of unnatural drugs. We all understand the benefits of using NATURAL products especially for our babies. Unlike unnatural remedies such as teething gels or pain relief syrups, the traditional beaded amber teething necklaces are a far less intrusive remedy for the pain and side effects of teething.

How to use the necklace?


The necklace is designed to be worn close to the skin in order to absorb the healing oils NOT to chew.

Supervise your baby at all times while wearing the amber necklace.

The necklace may be worn as soon as the baby starts teething or showing any signs of pain or discomfort from teething.

After a few days your child will not even notice the presence of the necklace.

The best thing about our necklaces is that they look absolutely adorable on both boys and girls.

They can continue to wear the necklace until all 20 milk teeth have cut and many wear it for years onward to continue benefiting from the natural healing oils produced by the amber.

At night time you may wish to use a baby amber teething bracelet. If you don't have a teething bracelet you may want to move the necklace around your baby's ankle or wrist and cover with your baby's clothing.

Features:

We only use the BEST QUALITY, GENUINE, ANCIENT AMBER from Lithuania where experienced hand-crafters create intricate necklaces designed to follow the centuries old European style so you receive an absolutely unique necklace unlike any other.
High-grade amber is used so each bead can easily release natural oils.
Baltic Amber is the world's most beautiful amber, rich in healing oils! That's why we only source our amber from Lithuania. Avoid cheap amber that comes from anywhere else, it doesn't contain the same quality or healing properties.
The amber beads are smooth and round so they are nice and comfortable for your baby's skin.
The teething necklaces are DESIGNED FOR SAFETY of your baby. Our amber teething necklaces have plastic clasps with a screw thread which has been glued into the barrel of the clasp.
We do not use sterling silver clasps which are designed so that the clasps do not release.
Avoid silver claps and silk tie clasps, which do not open easily.
The beads are knotted before and after each bead so that in the event that the necklace does break only one bead will come off and the remaining beads will stay intact.
Comes in a variety of different colour choices- Mix, Cherry, Rainbow, or Cognac.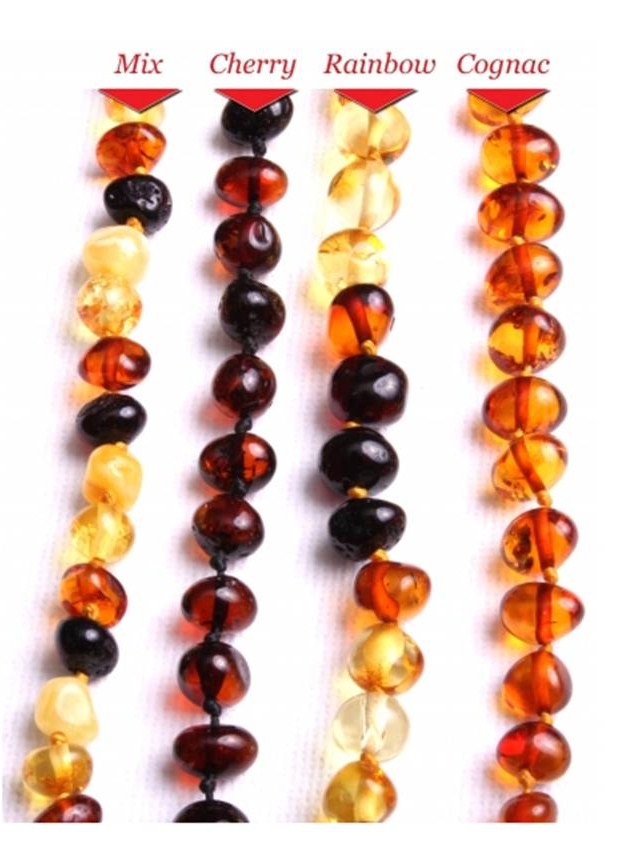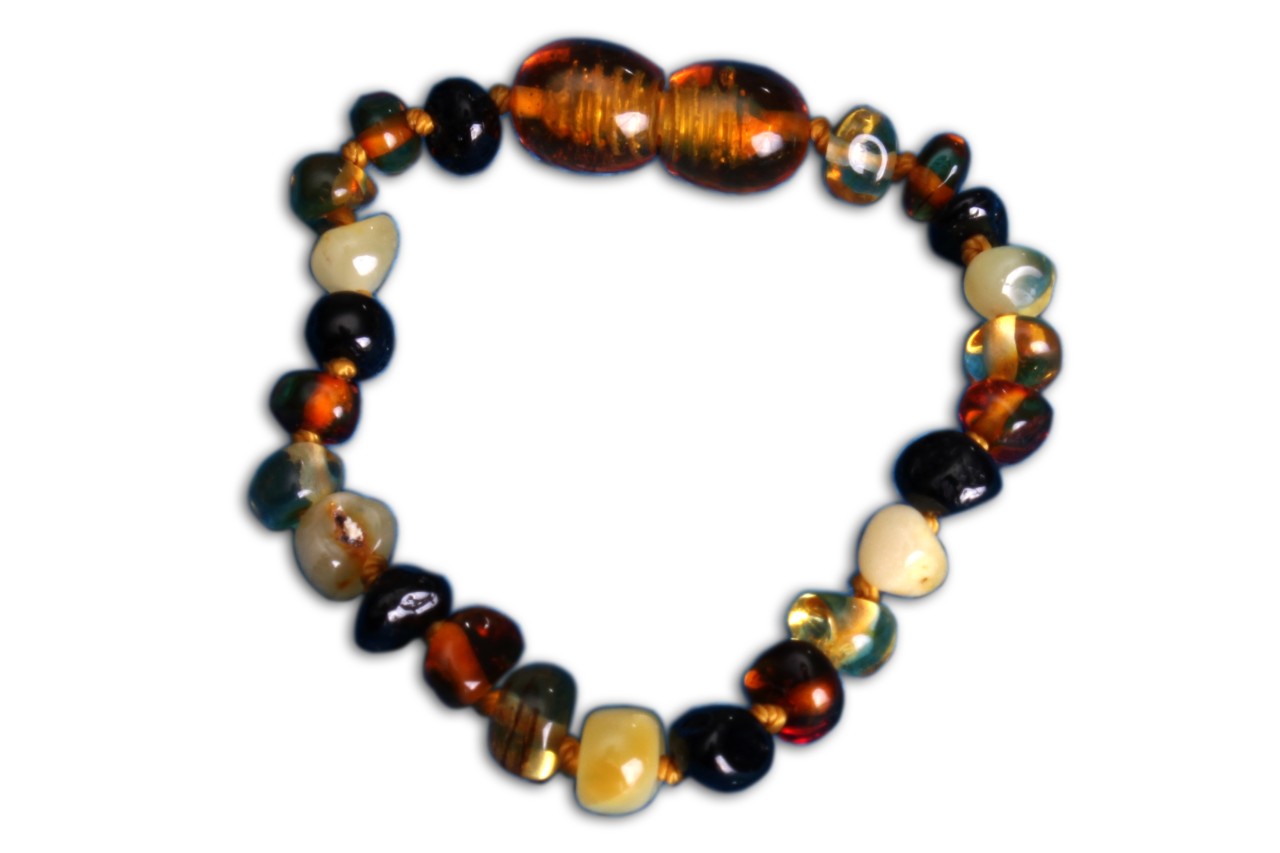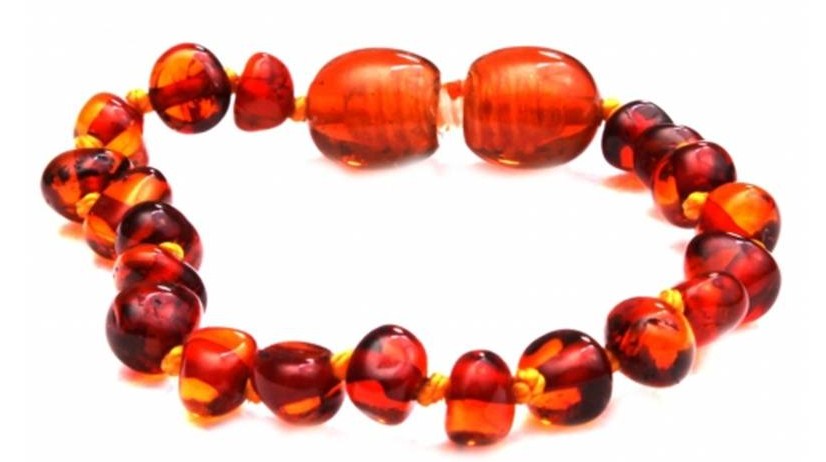 Features a knot between each bead for added strength should your bub have a chew.

High grade Baltic Amber- Backed with a money back guarentee of authentic
Easy to open & close plastic clasp.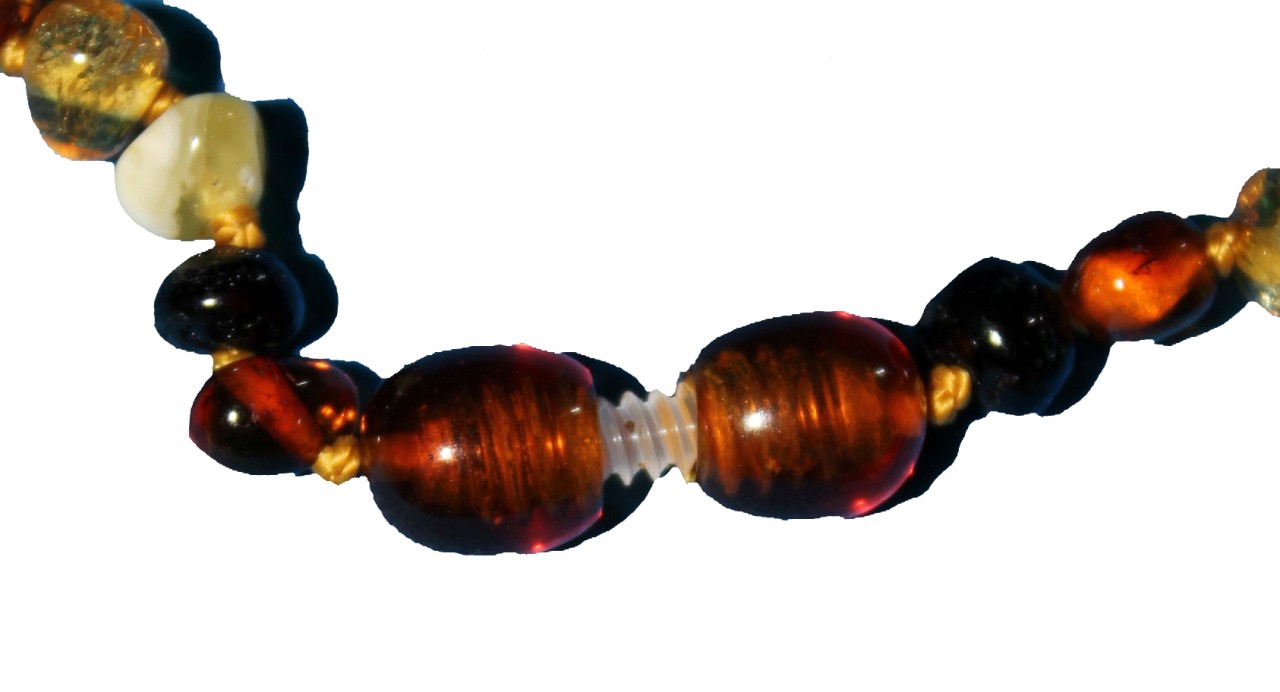 All of our amber products are delivered directly to you in a free silk gift bag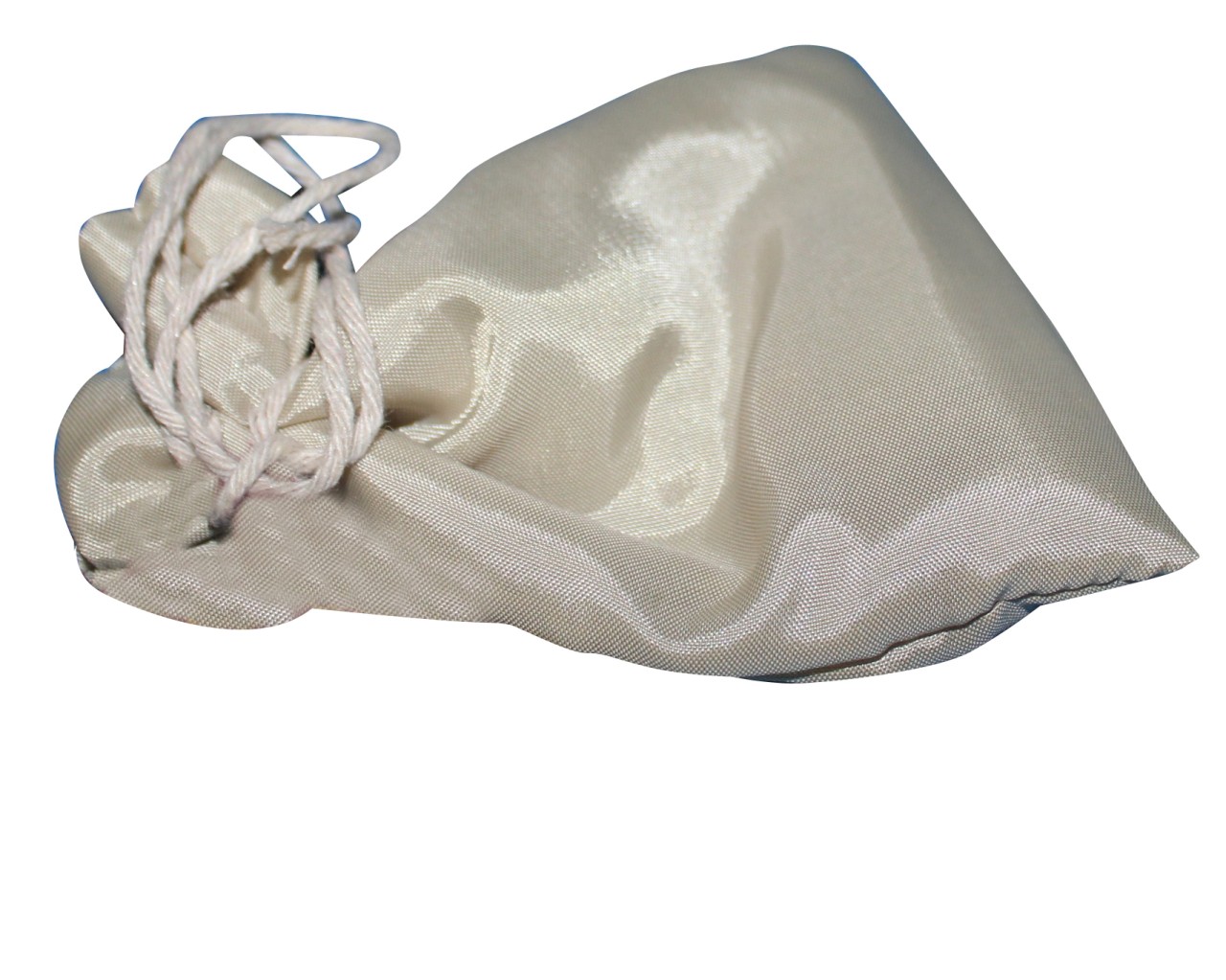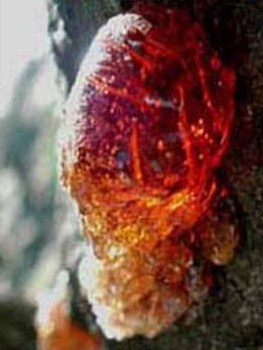 Restoring Energy –
The human body naturally produces succinic acid. The salt of succinic acid (succinate) is one of the most active substances in the processes of cellular respiration & intercellular energy creation. Succinic acid restores oxygen & energy supply to depleted cells & helps the body return tonormal, functioning state. Succinate is a raw material & a catalyst in the Krebs Cycle which is one of our main sources of energy. During the Krebs Cycle carbohydrates, fats, & proteins are metabolized for energy.
Maintaining Wellness -
When the human body reacts to stress, the body's cells begin to use oxygen more quickly. Oxygen plays a central role in the intercellular creation of energy, & a lack of oxygen can result in feeling lethargic. Oxygen is alkaline- forming in the blood & maintaining a slightly alkaline blood ph helps keep us healthy. Whenever the body functions in a state of low energy, it is much more susceptible to illness.
To help break the cycle of (chronic) inflammation - Where chronic inflammation is present, disease lurks. When the body's cells are chronically inflamed the human body's immune system response is to increase production of free radicals. Chronic overproduction of free radicals results in inflammatory-related diseases.
While wearing a piece or two of baltic amber jewellery may not cure all that, it has been a proven benefit to many!
Also available in a child's necklace- making it beautiful as a set.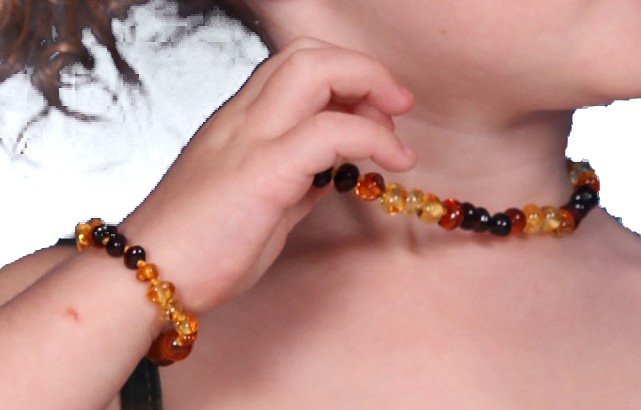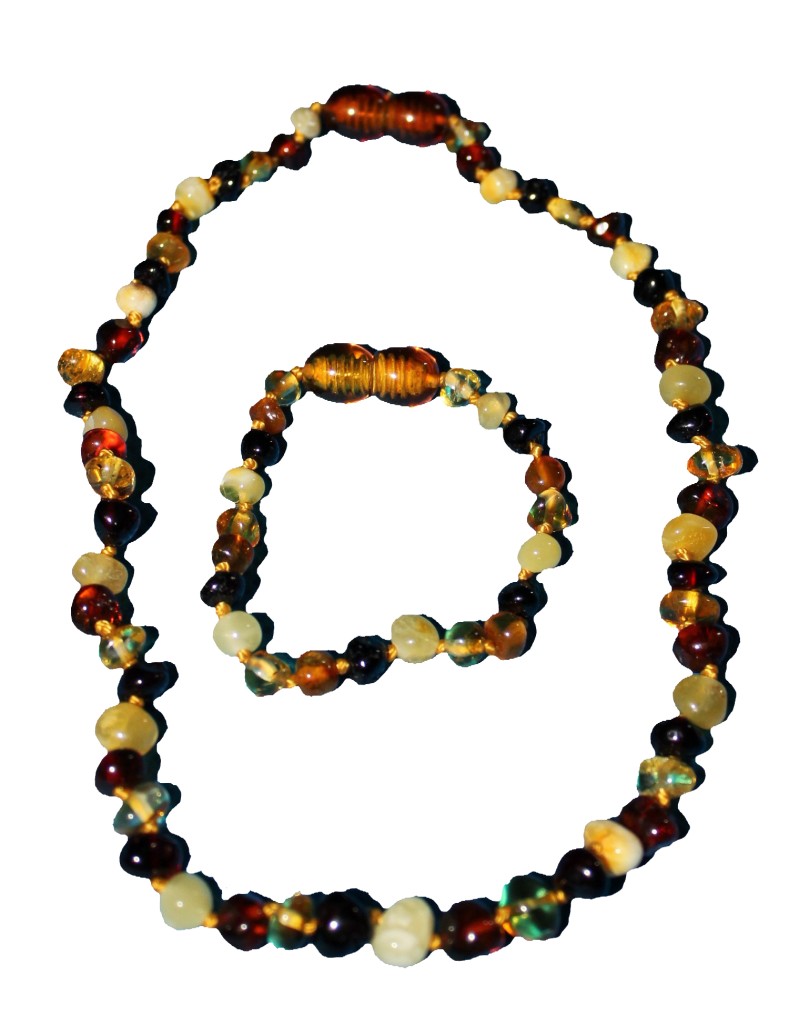 FAQ's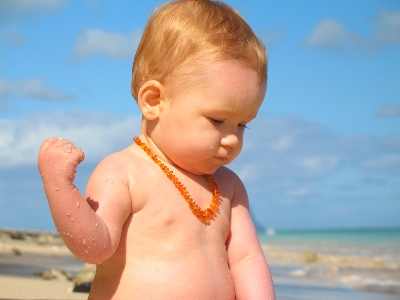 How would you describe an amber teething necklace/bracelet?

Comprised of Baltic amber beads amber teething necklaces are designed to be worn by infants and toddlers when they are teething. They are worn around the child's neck or as a bracelet and cannot be chewed on.

Why the prices are so different?

Some amber beads are more highly polished/rounded requires more time to make. Some Baltic amber beads are more rare than others. Prices reflect our working time not healing qualities of the amber necklaces.

Amber teething necklace/bracelet do they work?

When you hear from your customers over and over again that amber teething necklaces/bracelets are the answer to their prayers for pain relief for infants and toddlers, it's hard to deny the facts. Even though Baltic amber became a reality millions of years ago, present day moms and dads are still in awe of what it can do as a natural remedy when new teething are arriving for the first time.

It is possible that the soothing and calming effect of amber teething necklaces/bracelets, which has been empirically observed, is based on a combination of factors. Please keep in mind that as with many natural remedies, what works well for one person may not work for another. Irritability caused by unknown factors (digestion issues, allergies, sensitivities etc.) and attributed to teething may not improved. However, we feel strongly that natural and preventative remedies should always be considered prior to chemical or artificial ones. For the skeptics, amber teething necklaces/bracelets have worked for countless parents and uncomfortable babies. At the very least, they make a treasured keepsake, and look beautiful on your little one.


Can teething necklaces/bracelets be worn during sleep?

Because infants and children's move around during that period of time, you should remove the necklace/bracelet whenever your child is without supervision.


Will my amber teething necklace/bracelet cure my child's teething pain completely?

We encourage you to read the many testimonials of parents who use Amber teething necklaces/bracelets. Amber serves as an analgesic to alleviate teething pain and assist with the typical side effects such as restlessness, drooling and irritability.

As all children are prone to put things in their mouth, my child attempts to chew on the necklace/bracelet. Is this a problem?

Each Amber necklace/bracelet has knots between each bead making it hard for a child to chew through this however in the unlikely event that they do the Amber beads are natural and non poisoness therefore it would just go in one end and out the other.
We suggest you put the necklace/bracelet on your child and their place their clothing over it so it rests against the skin. The amber will begin to reach your child's body temperature very quickly and then the child will ignore its presence. There are other aids designed for teething that can give the child's increased need for chewing something safe to use.

So what is the magic in Baltic Amber?

That's an excellent question! Baltic amber contains 3-8% of succinic acid, a scientifically examined medical substance used in contemporary medicine. The highest content of the acid is found in the amber cortex--the external layer of the stone. There is much documentation regarding the power of succinic acid as an amazing healing add not just for teething in bubs but adults too.

How safe are Amber teething Necklaces/bracelets to wear?


Safety is a priority for us when manufacturing our necklaces/bracelets, to enable us to offer you the highest safety for your child we only use synthetic plastic clasps with a screw thread which has been glued into the barrel of the clasp. The string in each of our baby amber teething necklace/bracelet is knotted by hand in between each and every bead, so should the necklace break (which it should if necessary), the rest of the beads will not scatter. The amber teething necklace/bracelet fastens with a screw clasp that opens and closes easily.

What happens if Amber Necklace/bracelet gets torn?

String in our amber necklaces/bracelets is very strong and breaking is unlikely to happen, even if the amber necklace/bracelet would break only one bead would come of. The amber teething necklaces/bracelets beads are light and small. The bead is therefore too small for a child to choke on. But, if a child should swallow amber bead from the amber necklace/bracelet, it won't be harmful since it is not poisonous. It used to be ground up and swallowed in medicinal mixtures.

So exactly what does Baltic amber do?

The most obvious benefits are the reduction of inflammation (red cheeks) and a stimulation of the thyroid glands (controls drooling). Historically and scientifically associated with sunlight and warm, Amber accelerates our natural immune systems ability to heal wounds and reduces inflammation in the ears, throat, stomach and respiratory system. There is nothing on the market today that can even come close to the amazing, natural results of Baltic amber. There are no tablets, medications or pastes that can compete with this amber.

Are the necklaces/bracelets just for girls?


Amber teething necklaces/bracelets are designed to look great on boys as well are girls and provide the same incredible benefits regardless.

What is the difference between natural Baltic amber and other types of amber?

Baltic amber has the greatest content of succinic acid. As a result, it possesses the greatest healing properties and is the mostly highly values amber to own. There are other fossil resins that are similar in appearance to Baltic amber but they do not contain succinic acid. More importantly, it is only original Baltic amber that existed 45 million years ago that contains DNA material (inclusions of tiny particles of small plants and insects of that period). Thus Baltic amber has the ability to facilitate natural healing and provide other therapeutic treatments to support the body's immune system.

Is there any difference between the colours?

From a therapeutic perspective, there is no difference between the light amber and the dark. From a fashion perspective, the darker colours are popular for boys while the trends for girls tend towards the lighter tones.


Is an amber teething necklace/bracelet an appropriate gift?

Absolutely! Amber is an investment in many ways. As it becomes more and more extinct, its value will be immense as a treasured family heirloom. Our amber necklaces/bracelets for teething make luxurious gifts for memorable events – christenings, birthdays, holidays, and "just because" days.

What do I need to know about the care of the necklace/bracelet?

Please remove the necklace/bracelet before swimming or bathing. Whilst the necklace/bracelet will cope with getting wet, we have experienced that the chlorine and other chemicals used in swimming and spa pools and the detergents in bath soaps and shampoos are having a detrimental effect on the silk threading. Once the necklace/bracelet is wet it is essential that the necklace be removed and completely dried before it is re-worn.

For the hygiene of your infant the necklace/bracelet must be removed and cleaned regularly. Using a soft cloth gently wipe clean each individual bead of Amber. The necklace/bracelet can be rinsed in clean spring water (no chlorine, detergents please!) and left to dry in the sunlight. Keep the storage box with the soft pad for storing the necklace/bracelet when it is not being used.

And after teething?

We recommend the necklace/bracelet be worn even after teething is finished as the many other benefits of ambers therapeutic properties will continue. Amber has immune boosting properties and helps with many other ailments including eczema, growing pains and even arthritis.
Are amber necklaces and bracelets safe?
Yes, our bracelets and necklaces are specially made for babies in a very safe and traditional way. There are no metallic threads or clasps. Each bead is individually hand-knotted so that even in the extremely unlikely event of the string being torn, only one bead is lost and there is no risk of choking.


How often should my baby wear the amber?
As often as possible. Initially, it's best to have your baby wear the amber under supervision where they can be corrected if they pull on the thread or chew on the amber. They will very quickly become accustomed to it.


How do I put the necklace and bracelet on?
The necklaces and bracelets each have plastic clasps that match the colour of their amber. One end of the clasp screws into the other.


What about wearing during bath time or when swimming?
Yes, you can. The amber is not affected by water at all, however the thread can weaken and stretch with prolonged exposure to water.


Should I start my baby with a necklace or a bracelet?
A necklace is recommended for a baby older than 5-6 months and a bracelet for a newborn up to 5-6 months. An amber necklace has more amber than a bracelet so it is slightly more effective, however for the most pain relief we recommend a necklace/bracelet set.